Pfalz, 2009, Rieslaner 9.0% Spätlese Koch 2009 Rieslaner
Product Code
Contains
Price
PKH23211
0.75l
$620.00
Cash and Carry: $580.00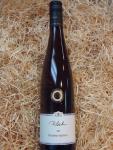 | | |
| --- | --- |
| Type | White |
| Style | süss (sweet) |
| Grape | |
| Vintage | 2009 |
| Year bottled | 2010 |
| Rating | Spätlese |
| Wine maker | Weingut Bernhard Koch |
| Region | Pfalz |
| Country | Germany (Deutschland) |
| Alcohol | 9% |
| Residual sugar | 85.9 g/l |
First at all, this wine is a winner of landesprämierung(national award of) der Landwirtschaftskammer (Chamber of agriculture), Goldene Kammerpreismünze(Chamber award- Gold coin)
Rieslaner is a breed cross of the Silvaner and Riesling grape that was first bred in Germany in earlier 20's of last century. An unique German variety ; It is for the purpose to be a late ripening grape and do well with botrytis. It holds a lot of potential to form an acidic, fruity and full yield when it is ripened. You can easily find this wine in the Palatinate (Pfalz) region where the grape is often affected by botrytis.
This sweet wine offers fine bouquet and harmonious freshness, the acidity in the wine are rich enough to balance the sweetness. Once the wine opened, endless of the sense of honey and also a touch of citrus aroma keep on coming.
You are suggest to give her a little more time to breathe or else quite interesting; you would miss the mango which the aroma meight appears later. Such a beautiful wine for the sweet wine lovers.
Take a bottle or two of this wine to a cuisine of hot & spice Chinese, Thai and great Indian would never disgrace you or the dinner.
Classification and Awards
Gallery