Mosel, 2011, Riesling 9.5% QbA Wajos 2011 Riesling Grauschiefer Qba
Product Code
Contains
Price
MWJ02051
0.75l
$450.00
Cash and Carry: $350.00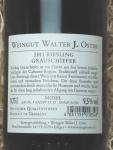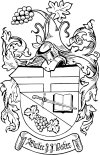 | | |
| --- | --- |
| Type | White |
| Style | halbtrocken (semi-dry) |
| Grape | |
| Vintage | 2011 |
| Year bottled | 2012 |
| Rating | QbA |
| Wine maker | Walter J. Oster |
| Region | Mosel |
| Country | Germany (Deutschland) |
| Alcohol | 9.5% |
| Total acid | 6.7 g/l |
| Residual sugar | 68 g/l |
Grauschiefer; Grey slate in German. As you may know that Riesling is an intense and aromatic white wine variety that is the leading grape of its native homeland Germany.
This varietals is exceptionally sensitive to its terroir, it is highly prized for conveying a sense of place in its wines. Because of its naturally high acidity allowed the wine to age gracefully for decades.
Large spectrum of citrus flavors and Riesling is regarded as one of the finest white wines in the world. A finely made Riesling do not necessarily carry the strong aroma of Kerosene. This wine is although a rating of Qba but it is closely equivalent to Spätlese.
The aroma and the responses from palate were stable and matched to the tasting note recorded as before when a bottle of this wine opened and tested at the end of May 2016. Rich and complex bouquet, fine fruitiness and well balance.
Gallery