Alentejo DOC, 2013, Aragonez, Touriga Nacional 15.0%
Product Code
Contains
Price
ACS50H12
0.75l
$400.00
Cash and Carry: $320.00
| | |
| --- | --- |
| Type | Red |
| Style | dry |
| Grape | |
| Vintage | 2013 |
| Year bottled | 2015 |
| Wine maker | Casa de Sabicos |
| Region | Alentejo DOC |
| Country | Portugal (República Portuguesa) |
| Alcohol | 15% |
| Total acid | 5 g/l |
| Residual sugar | 0.5 g/l |
An intense garnet color even up to deep purple with 15% alcohol content.
A decent wine, affordable, powerful, heavy tannin and rough still at this moment, need some evolution in the bottle perhaps in the next couple years,
An fruity aromas with some evolution and complexity, where the ripe wild berries (blackberries and raspberries) with chocolate and vanilla notes are evident. Soft, very soft, notes of smoke suggested by wood. Persistent end.
Pleasant and suitable for rich gravy, meat with fat grilled or roasted gourmet dishes.
Horace Cheung, updated on 2020.02.19. First written in 2016,
Gallery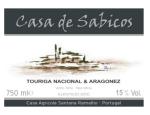 Cuvee of 2 varietals ; they are Touriga Nacional & Aragonez, Growth on the soils of Red Chalky and Granitic in Reguengos of Alentejo. Steel vats with temperature control, long maceration, Very deep red-blue wine Colour, A fruity, young complex with notes of raspberries, Smooth, fruity, good acidity, some adstringence, very long, persistent finish.