Alentejano VR, 2010, Cuvee 13.5% Casa Agricola Santana Ramalho
Product Code
Contains
Price
ACS33H11
0.75l
$450.00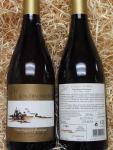 | | |
| --- | --- |
| Type | White |
| Style | dry |
| Grape | |
| Vintage | 2010 |
| Year bottled | 2011 |
| Wine maker | Joaquim Madeira |
| Region | Alentejano VR |
| Country | Portugal (República Portuguesa) |
| Alcohol | 13.5% |
| Total acid | 5 g/l |
| Residual sugar | 4.9 g/l |
This is a white wine most of our local wine lover would appreciate. It is a cuvee of 3 varietials: 15/ Antao Vaz, 16/ Arinto and 17/ Chardonnay, and the first 2 are native. A 5% of Chardonnay give this wine as a touching but already made a big different.
Tropical notes and a hint of smoke in the nose suggested by the birth place of barrels where these wines fermented and aged. The wines were crafted to a body that offering sensations of dry, smooth, silky and creaminess. Like meditation that draw once mind out of the body; travelling into the universe. On the other hand, the scents of tropical fruit and vanilla in the mouth are so real and in a good harmony with the oak, fresh ensemble potentiality by the acidity stressing its youth.
Eyes catching Gold & White colour printed label, plus nice bottle shape, the best Chardonnay wine that Horace our wine consultant truly recommend.
Gallery