Suite C & D, 8/F Yally Industrial Building
6 Yip Fat Street
Wong Chuk Hang
Hong Kong SAR, PRC
Tel: +852 2870 8500, Fax: +852 2870 8563
Travelling to our offices? Check our map.
---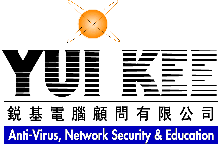 Divisions:
---
Company Profile
History
Yui Kee Company Limited was established in 1964, with the former name of Yui Kee Store. In 1980, it became Yui Kee Foodstuff Company. In 1991, it transformed to Yui Kee Company Limited. In 1993, the Computing Division was established, diversifing into computer software and services. The Computing Division became a subsidiary company, Yui Kee Computing Ltd., on 1 April 2000.
Yui Kee Company Limited has been importing Gummy confectionery since 1987 and began importing wine to Hong Kong in the year 2005.
Horace Cheung is the Managing Director of Yui Kee Company Ltd.
Banking Facilities
We enjoy solid banking facilities and services from The Bank of China, Shanghai Commercial Bank Limited, DBS Bank Limited and the Bank of East Asia, Limited. They provide a full line of facilities.
Capital and Labour
Our offices and warehouses are self-owned, we have over 15,000 square at Wong Chuk Hang, Hong Kong.
Our staff are trained to our high levels of customer service. Customers are always informed of the full shipment details before delivery.
Nature of Business
The business of Yui Kee Company Limited is food and wine. We have carefully re-structured our business process in Hong Kong to become an Asian hub for trading these products from worldwide sources:
From Food division; we offer Moulded Gummy Candies, different brands in various shapes; made from Pork Gelatin or Beef Gelatin.
Extruded Soft Candy; made from wheat flour.
Popping Candies; confectionary items and for use as ingredients in interesting applications such as deserts, ice cream or chocolates.
We can also link our customers to producers of Pressed Dextrose Candies, Marshmallows, chocolates, biscuits and dry seasoned seafood snacks.
We are very excited about our wine division: German Wines: Rieslings from the Mosel-Saar-Ruwer.
with 20 pure German varieties originating from steep vineyards in the Lower Mosel, famous for quality Riesling, and Pfalz, a gifted wine land. This large and mildly hilly wine region nurses many talented winemakers offering beautiful 21st Century wine. In the year 2008 our wine consultant, Mr. Horace Cheung, travelled to Spain for the first time to meet with Spanish wine-makers in Extremadura, in search of special wines to strengthen our wine portfolio. This treasure hunt was fruitful. Now wines from Payva and Viña Santa Marina, They are multi world-class wine award wineries are available in front of your eyes. Be ready to be taste the "Tierra de Barros". Secondly, Cava comes from one of the best Cava DO in Spain, Utiel-Requena. Featuring Cava Rosy local people loved the most. More Cava from this region will be offer in short future. A new member; Winery "Petr Skoupil" of Moravia, Czech Republic recently jointed our family Four wines has been included in our wine list. Alltogether, totally 24 wines are available in Hong Kong at this moment and more wine are coming.
Our logistics can efficiently serve our customer's needs, whether the order is Less Container Load (LCL) or Full Container Load; and no matter where the destination is in Asia, or even worldwide.
Yui Kee Computing Limited
For the Computing Division, we are an experienced Anti-virus and Information Security Solution Integrator.
The Education Division develops and resells a range of educational software, and designs educational websites and teaching resources.
Private Label Services
We can also provide a private label services to our clients, including design and production of tailor-made packaging, confectionery products, re-packing capability, and Labelling services. Our experience may be useful to you, so please contact us.
Contacting Us
You are welcome to contact us about our products and services:
Managing Director: Horace Cheung, horace@yuikee.com
For technical matters, please contact:
Technical Consultant: Allan Dyer, adyer@yuikee.com.hk
---