Hainfelder Ordensgut, 2010, Spätburgunder 13.5% QbA Koch 2010 Spaetburgunder
Product Code
Contains
Price
PKH17022
0.75l
$900.00
Cash and Carry: $780.00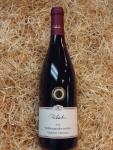 | | |
| --- | --- |
| Type | Red |
| Style | trocken (dry) |
| Grape | |
| Vintage | 2010 |
| Year bottled | 2011 |
| Rating | QbA |
| Wine maker | Weingut Bernhard Koch |
| Vineyard | Hainfelder Ordensgut |
| Area | Hainfeld |
| Region | Pfalz |
| Country | Germany (Deutschland) |
| Alcohol | 13.5% |
| Residual sugar | 5.1 g/l |
This variety is widely considered to produce some of the finest wines in the world, but is a difficult variety to cultivate and transform into wine. Some one said, "God made cabernet sauvignon whereas the devil made Spätburgunder".
A classic wine from a beautiful year. Ripe and soft in tannin. Hints of Prunes, Blackberries, Vanilla and Cherries, touch of oak made our wine elegance, rich in fruitiness. and light in body than other reds due to less red pigment in its thin skin.
Short toasted and stewed meat, cheese.
The aroma and the responses from palate were gentle and when a bottle of this wine opened and tested at the end of May 2016.
Classification and Awards
Gallery