Edesheimer Rosengarten, 2011, Gewürztraminer 7.5% Spätlese Koch
Product Code
Contains
Price
PKH01221
0.75l
$780.00
Cash and Carry: $680.00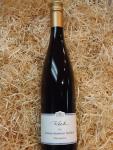 | | |
| --- | --- |
| Type | White |
| Style | süss (sweet) |
| Grape | |
| Vintage | 2011 |
| Year bottled | 2012 |
| Rating | Spätlese |
| Wine maker | Weingut Bernhard Koch |
| Vineyard | Edesheimer Rosengarten |
| Area | Pfalz |
| Country | Germany (Deutschland) |
| Alcohol | 7.5% |
| Residual sugar | 93.4 g/l |
A very pretentious grape with a seductive scent of roses. A heavily and strong changing output yearly. This wine has a fine, very aromatic and perfumed bouquet like rose fragrance.
Gewürztraminer is named after the Tyrolian village of Tramin. "Gewürz" literally means "spice".
The aroma and the responses from palate were gentle but dense, fruity sweet when a bottle of this wine opened and tested at the end of May 2016. What a beautiful wine to sweet wine lovers.
Edesheimer Rosengarten name of the vineyard
Gallery