Pfalz, 2017, Portugieser 10.3% QbA BD 2017 Portugieser Rosé
Product Code
Contains
Price
PBD15023
1l
$350.00
Cash and Carry: $230.00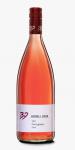 | | |
| --- | --- |
| Type | Rosy |
| Style | lieblich (mild) |
| Grape | |
| Vintage | 2017 |
| Year bottled | 2018 |
| Rating | QbA |
| Wine maker | Weingut Borell Diehl, Hainfeld, Germany |
| Region | Pfalz |
| Country | Germany (Deutschland) |
| Alcohol | 10.3% |
| Total acid | 6.7 g/l |
| Residual sugar | 33.4 g/l |
This wine has a strong red color for Rosy due to its intensive dark colour of the peels from the grapes.
Fruity of dark fruits, a touch of minerality and smooth sweetness offer soft and mild and well balance wine body.
This is a one litre bottle, a typical Palatino(Surrounding area of Hainfeld) bottle size.
Lets imagine; in a hot summer day; temperature is coming down in the late afternoon, people like to come out from their house, meet the others and have a cool drink in one of the local wine bar which usually set up right next to vineyards with great a view. Quite often they like to open a bottle of this size, sometime they mix the wine with water and some ice in the glass or to share with friends or taking the unfinished bottle to the restaurant or home, it is very popular in the region, a happy life style.
Comfortable attendant with pasta, cheese and our light spicy tasted Chinese dishes.
Horace Cheung, 2018.07.21
Tasting notes :
2018-11-02:
Rich Fruitiness, nice Pink color, Surprisingly good.
2018-11-19:
Will taste this wine again tonight at the ChiuChow Cuisine Restaurant, together with a bottle of 2011 Casa De Sabicos' Aragonez and Touriga Nacional. let see.
Gallery