Alentejo DOC, 2007, Cuvee 14.1% Abadessa Gold
Product Code
Contains
Price
ABD33H12
0.75l
$700.00
Cash and Carry: $650.00
ABD33H22
1.5l
$1800.00
Cash and Carry: $1600.00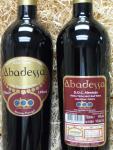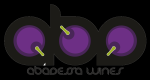 | | |
| --- | --- |
| Type | Red |
| Style | dry |
| Grape | |
| Vintage | 2007 |
| Year bottled | 2010 |
| Wine maker | Vinhos Abadessa |
| Region | Alentejo DOC |
| Country | Portugal (República Portuguesa) |
| Alcohol | 14.1% |
| Total acid | 5.7 g/l |
| Residual sugar | 3.2 g/l |
This high quality full body wine is a cuvee of four varietials, the first three are native: 01/ Aragonez, 02/ Trincadeira, 03/ Alicante Bouschet and 08/ Cabernet Sauvignon.
Dark deep garnet wine color, complex scents of wild fruits; ripe blackberries, plum and oak reaches your nose first and then it offer soft, warm, excellent calm acidity, persistent finish, a hints of vanilla, dark chocolate and toasted wood. A touch of French style and definitely a great wine to enjoy.
This is a non-filtered wine which is a daring work of art; unless the wine making process is very clean; otherwise the winemaker will not go for it. You may consider open the bottle at noon let the wine breathing for a while and also could rest the wine bottle in bucket which filled with some tap water; this way could precipitate the lees at the bottom of the bottle. Before serving try to transfer half of the wine or less to a decanter. Serve little, so that you could taste the evolving difference of wine in the decanter & the bottle.
Food pairing: dishes with light sauces, Pizza with meats, pasta with Cheese and you are also suggested to enjoy this wine with these dishes; spring rolls, Char Siu (Chinese BBQ Pork), Crisp Roasted Duck.
It is possible be cellaring at least up to 2025.
Horace Cheung, updated on 2020.02.14. First written in 2011,
Tasting report:
2018-09-15: Chinese restaurant @ Kowloon tong Club, One magnum bottle of this wine of 2007 vintage were opened and tasted. Steady as usual every time this wine is serve. rich, deep color , rich, tasty, Well balance, great aftertaste.
Gallery