Merlot
Our wines using this grape variety are listed below.
Mainly used in France, but now distributed around the world. The name of "Merlot" is adapted from the french word "Merle". These are small, black singing birds which sign to advise that these grapes prefered to be harvested as an "early bird". That means very early.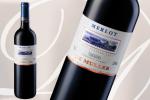 CUM60Y12
De Muller S.A., 2014, Merlot 14.0% HK$300.00
Cash and Carry
: HK$255.00
Notes:
Delivery

Delivery to HK, KLN or NT is free for orders over HK$3500.
Delivery of orders less than HK$3500 is:

HK HK$60
KLN HK$120
NT HK$180

Please contact us for delivery charges to outlying islands.

Contents

The offer is subject to availability.
All orders will be handled on a first-come-first-served basis, while stocks last.

Ordering

Please allow one week for delivery.
More Information